Geochemic Staff
Dr Andrew Barnes
BSc (Hons), MSc, PhD, CGeol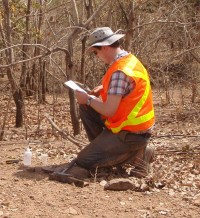 Managing Director / Principal Geochemist
Andrew is an environmental geochemist specialising in mining waste characterisation, Acid Rock Drainage (ARD) prediction, mine water hydrogeochemistry, geochemical modelling and mining waste static and kinetic testing. He has eight years of post doctoral experience in mining consultancy, is a chartered geologist with the Geological Society of London, and is registered with the Federation of European Geologists. 
Previous to starting Geochemic, Andrew worked for an international mining consultant on numerous mine development, environmental impact assessment and closure planning projects in Europe, Africa, Asia and the Americas and gained experience with a wide range of mining commodity waste streams. Andrew has presented at a number of academic and industry focused conferences and has published a number of articles. You can download a comprehensive list of these here.
Andrews CV can be downloaded here and contact details in vCARD format here
You can call Andrew on the office number +44 (0)1495 617474 or his mobile +44 (0)7792 726711 alternatively via email abarnes@geochemic.co.uk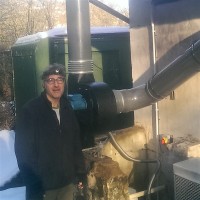 Environmental Engineer 
Ben is an Engineer with 25 years' practical experience in the water and environmental sector. He has a first class honours degree in Mechanical Engineering, a Masters in water pollution control technology and a PhD in removal of phosphorous from wastewater. 
Ben brings a unique set of skills and experience to Geochemic's testing facility including project management, developing and designing engineering solutions, CAD capabilities, installation and commissioning of R&D electronics, including laboratory systems, logging and automation, plumbing, mechanical and civil engineering installations. He also has experience with IT systems including AutoCAD, Matlab, LabVIEW and SPSS.
Ben's CV can be downloaded here and contact details in vCARD format here Ben can be contacted on the office number +44 (0)1495 617474 or via email bgersten@geochemic.co.uk
Dr Mark Roberts
BSc (Hons), MSc, PhD, FGS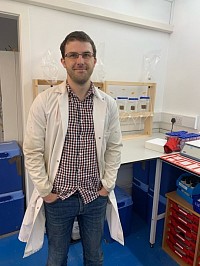 Bio-geochemist
Mark is an environmental bio-geochemist with an undergraduate degree in exploration and resource geology undertaken at Cardiff University. Mark's Ph.D. focused on the stimulation and exploitation of indigenous iron-reducing microbial communities within oxidized mine wastes to facilitate metal recovery. Mark also undertook an M.Sc. in Applied Environmental Geology (also at Cardiff) and is a skilled laboratory research scientist who loves nothing more than sampling columns, running laboratory analysis and working with large cumbersome ICP datasets! Mark is a fellow of the geological society of London. 
Marks Ph.D can be downloaded from Cardiff Universities library Here. Mark can be contacted on the office number +44 (0)1495 617474 or via email mroberts@geochemic.co.uk
Nina Swain
BSc (Hons), MSc, FGS
Environmental Geoscientist
Nina joined Geochemic in November 2020 after completing her MSc student project with Geochemic over the summer of 2020. Nina undertook her undergraduate degree in Geology at Leicester university and MSc in Applied Environmental Geology at Cardiff University. Her MSc project was looking into metal recovery from mining tailing through enhanced oxidation and selective pH control which she still continues as ongoing research. 
Having worked for a number of years between her BSc and MSc in the corporate recruitment world outside of geology, Nina brings with her commercial experience in business management and organisation which have proven very transferable to the laboratory environment. 
Nina is contactable at the laboratory +44(0)1495 617474 or via her work email nswain@geochemic.co.uk
Rhys Savage
BSc (Hons), MSc, FGS, FRGS
Environmental Geo-scientist / PhD Researcher 
Rhys is a graduate geographer come geochemist who undertook an MSc industrial placement at Geochemic Ltd between June and October 2018. As part of his industrial research project Rhys designed and implemented novel carbonation kinetic experiments on ultra-mafic mine waste and carried out detailed mineralogical and elemental characterisation analysis. Following the completion of his MSc project, in which he received a distinction, Rhys started a PhD at Cardiff University School of Engineering looking into geochemical method development for mine waste characterisation. The PhD is a KESS2 studentship for which Geochemic is part funding as the industrial partner. Rhys has extensively used ED-XRF for the analysis of rock materials soils and sediments during both his undergraduate projects (looking into contaminated sediments in Swansea) and during his MSc project with us. He has also gained experience in laboratory characterisation of mining wastes having been a great help with running many EN15875 NP tests, ABCC and oxygen consumption tests.
Rhys is generally in Geochemic 3 days a week for the duration of his PhD during which he can be contacted on the office number +44 (0)1495 617474 or via email rsavage@geochemic.co.uk